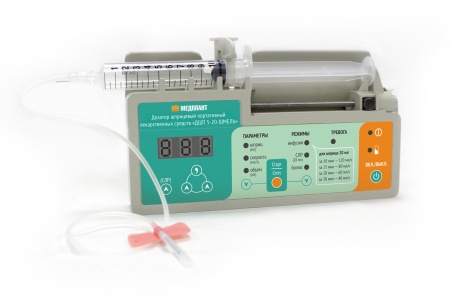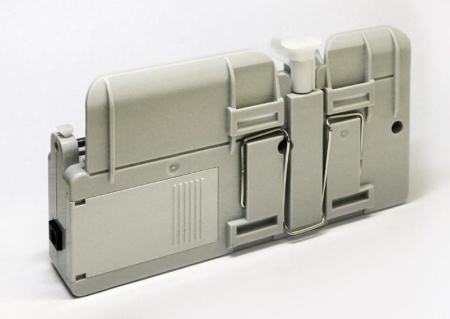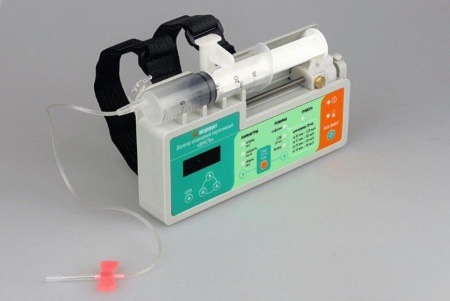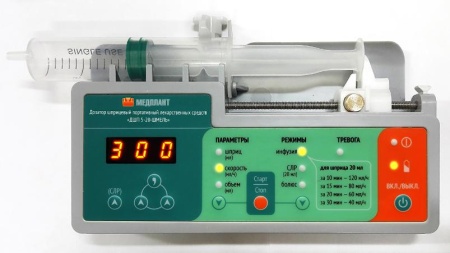 Characteristics
Weight, kg, not more
—
0,3
Rated capacity (volume) of syringes used, ml
—
Automatic detection of the syringe rated capacity (volume): 5, 10, 20
Infusion rate in the "Infusion" mode, ml/h; 0.1 ml/h increment up to the rate of 99 ml/h, 1 ml/h - at rates from 100 to 600 ml/h
—
0,1–600 (with maximum permissible error (accuracy) ± (0.04 ml/hour + 2% of the current value))
Infusion rate in the "Bolus" mode for the syringe with the rated capacity (volume) of 20 ml, ml/h; not adjusted
—
1000-1500
Infusion rate in the "Bolus" mode for the syringe with the rated capacity (volume) of 10 ml, ml/h; not adjusted
—
650-950
Infusion rate in the "Bolus" mode for the syringe with the rated capacity (volume) of 5 ml, ml/h; not adjusted
—
480-620
Occlusion pressure, kp/cm2
—
0,25 – 0,65
Inadvertent bolus protection function ("Anti-bolus")
—
yes
Power supply / accumulator
—
yes
Power supply / car lighter socket
—
yes
INTENDED PURPOSE: The driver is intended for longtime and precise dosing of medicine.

SCOPE OF USE: Pre-Hospital Emergency Medicine, Disaster Medicine, Military and Extreme Medicine, Medical Evacuation.

ADVANTAGES:
- Supercompact, lightweight and cost-effective;
- Easy to operate, simple control interface;
- Autodetection of fill volume of syringe;
- Accepts a wide range of syringe sizes: 2 – 20 mls;
- Infusion mode during CPR.
| | |
| --- | --- |
| | 0,3 |
| Rated capacity (volume) of syringes used, ml | Automatic detection of the syringe rated capacity (volume): 5, 10, 20 |
| Infusion rate in the "Infusion" mode, ml/h; 0.1 ml/h increment up to the rate of 99 ml/h, 1 ml/h - at rates from 100 to 600 ml/h | 0,1–600 (with maximum permissible error (accuracy) ± (0.04 ml/hour + 2% of the current value)) |
| Infusion rate in the "Bolus" mode for the syringe with the rated capacity (volume) of 20 ml, ml/h; not adjusted | 1000-1500 |
| Infusion rate in the "Bolus" mode for the syringe with the rated capacity (volume) of 10 ml, ml/h; not adjusted | 650-950 |
| Infusion rate in the "Bolus" mode for the syringe with the rated capacity (volume) of 5 ml, ml/h; not adjusted | 480-620 |
| Occlusion pressure, kp/cm2 | 0,25 – 0,65 |
| Inadvertent bolus protection function ("Anti-bolus") | yes |
| Power supply / accumulator | yes |
| Power supply / car lighter socket | yes |
| Power supply / main supply | yes |
| Battery life from accumulator, hour | 10 (at least 10 h at the infusion rate of 600 ml/h using the syringe with the rated capacity (volume) of 20 ml) |
| | (167±5)х(92±5)х(32±5) (without adapter) |